NEXT GENERATION OF PRECISION
RNAi THERAPIES
Based on the scientific discovery of Switch's co-founders, the company's proprietary CASi platform combines advantageous properties of both single and double-stranded RNAs in a single molecule, allowing for cell selective RNAi activity, as well as efficient self-delivery and uptake, potency and durable gene knockdown. Switch is leveraging the unique properties of CASi molecules to develop the next generation of precision RNAi therapies for central nervous system and systemic indications.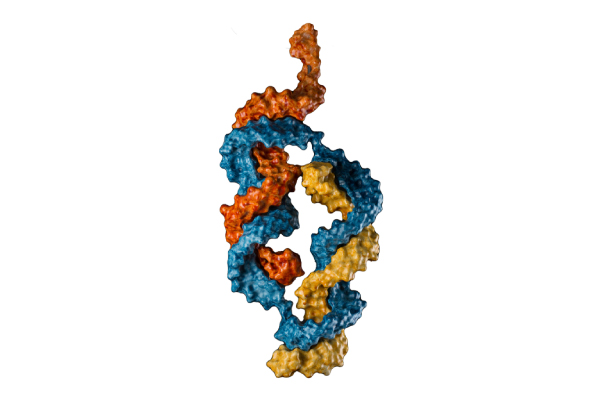 CASi: A NOVEL CLASS OF DRUGS​
Switch Therapeutics has developed a novel class of drugs called Conditionally Activated siRNAs (CASi). Each CASi molecule employs a small interfering RNA (siRNA) structure with added extensions to dock to a unique, nanotechnology-based RNA sensor developed by Switch. The addition of this sensor gives CASi two, novel properties:
The unique ability to target RNAi activity to specific cell populations based on their internal gene expression.
Efficient self-delivery and uptake, potency and sustained duration of gene knockdown.
By enabling cell selective knockdown of targets by RNAi, CASi has the ability to improve the therapeutic window for existing targets and open the door for numerous, therapeutic applications.
COMBINING ADVANTAGEOUS PROPERTIES OF SINGLE AND DOUBLE-STRANDED RNAs IN A SINGLE MOLECULE
Modern oligonucleotide medicines for gene knockdown belong to two different categories; short single-stranded molecules called antisense oligonucleotides (ASOs) and short, double-stranded molecules called siRNAs. These current gene knockdown modalities have both incredible promise and known limitations. There is no current gene knockdown modality that is cell selective, exhibits good distribution without delivery methods like lipid nanoparticles (LNPs) or targeting ligands and is highly potent.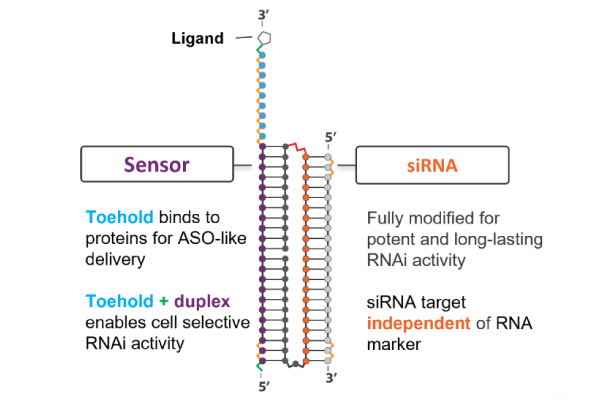 CASi MOLECULES COMBINE THE BEST OF BOTH APPROACHES
On the CASi molecule, the single stranded toehold domain in the sensor gives CASi efficient self-delivery properties. Once in the cell, the sensor can decouple from the siRNA, allowing use of RNAi for efficient gene knockdown. This best-of-both-worlds approach helps substantially improve delivery and activity. As a result, CASi has broad therapeutic applicability with the potential to deliver the next generation of precision RNAi therapies for central nervous system and systemic indications.
We believe our CASi platform has broad applicability, with the potential to treat a range of central nervous system diseases, as well as systemic indications.
Internally, our efforts are initially focused on advancing programs that leverage our differentiated cell selective RNAi activity, as well as our ability to achieve CNS potency, duration and deep brain distribution.
We also intend to explore opportunities to expand our CASi platform into new areas through potential pharmaceutical and biotechnology collaborations.